---
Upcoming Events: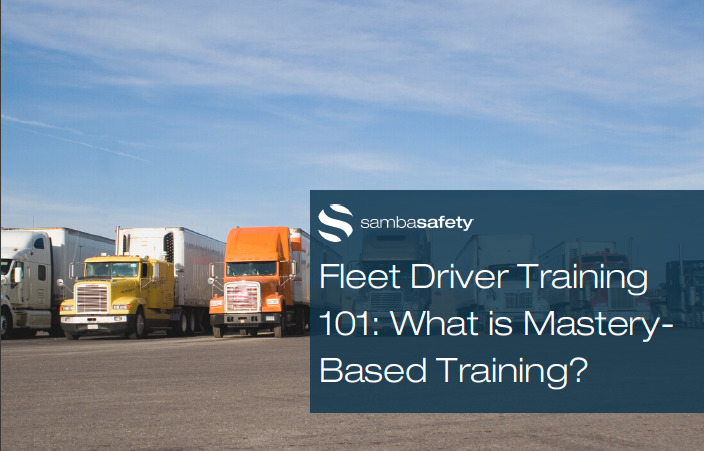 ---
Do's and Don'ts of Hiring and Firing
Ongoing Webinar
There are several times available so you can pick a time that works best for you! Join Platinum HR for this month's free webinar on The Do's and Don'ts of Hiring and Firing. This is one of our most requested webinar topics. This is a great webinar for Business Owners, HR Personnel or anyone involved in the hiring process.
This is a great webinar for business owners, office managers and anyone who wears the HR hat for the company.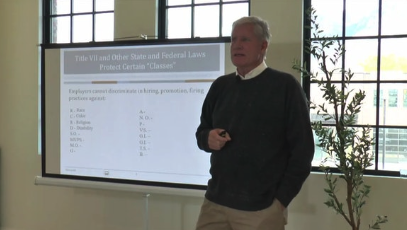 ---
News:

---
Oregon Emergency Order Granting Suspension of Certain Motor Carrier Regulations in Response to Oregon Wildfire Activity 8-30-22
Oregon Executive Order No. 22-17
Emergency Declarations, Waivers, Exemptions and Permits
---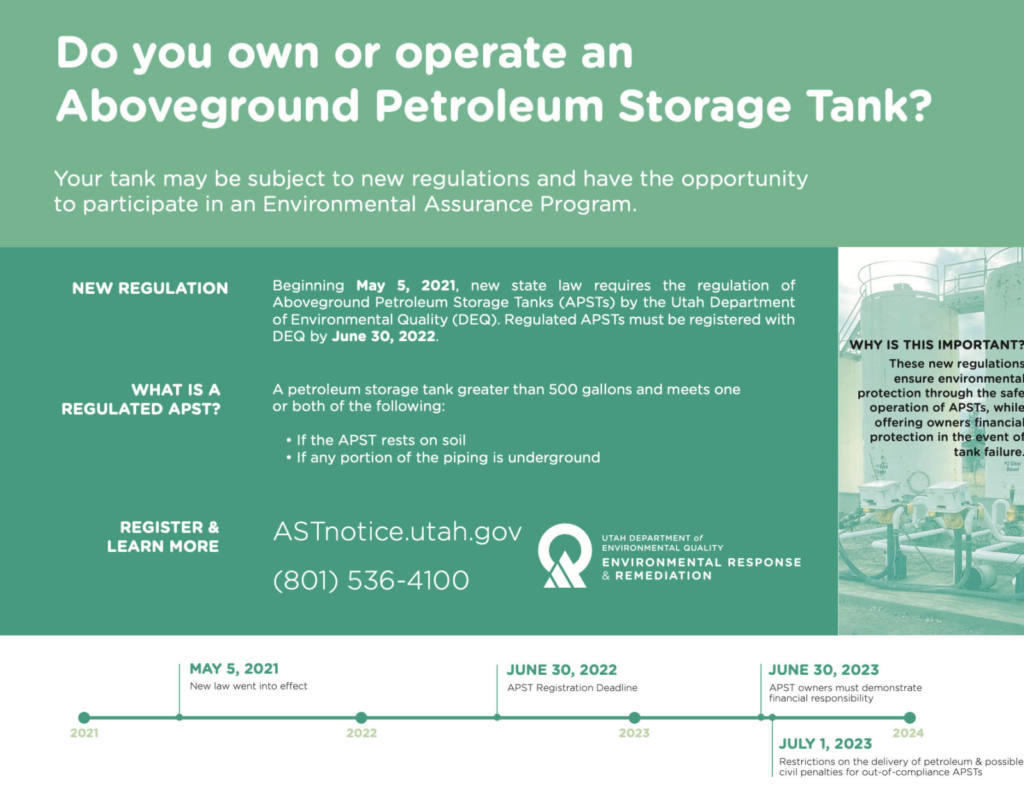 ---
Companies Honor Drivers During National Truck Driver Appreciation Week 
National Truck Driver Appreciation Week is a time to honor professional drivers for their hard work and commitment to keeping the economy – and our country – moving. This year's celebration will take place the week of Sept. 11 through Sept. 17. Utah Trucking Association is planning to be at the Echo Port on Tuesday, Sept. 13th at 9:00 am and Perry and St. George Ports on Wednesday, Sept. 14th at 9:00 am. We will be passing out donuts and water to the driver coming through the ports. UTA members are welcome to participate with us on these dates. We encourage every company to plan their own event to honor your drivers on this special week. Thank you for your support. (UTA Staff) 
---
Top 10 Reasons Drivers Voluntarily Left in Q1
People.Data.Analytis (PDA) makes direct contact with professional truck drivers during their first 180 days of employment, historically the time frame with the highest turnover. PDA has begun to closely monitor data from drivers who are voluntarily leaving their jobs. This data reveals what issues the drivers are experiencing which leads to their decision to voluntarily leave their job.
---
High Fuel Prices Push Operating Costs for Trucking to Record High: Report 
Soaring fuel prices pushed per-mile trucking costs to their highest levels on record last year, according to the American Transportation Research Institute's 2022 Analysis of the Operational Costs of Trucking. Inflation remains a major concern and rising costs
---
FMCSA Fields Request to Report Hair Drug Testing Results to Clearinghouse 
In an exemption request published in the Federal Register Tuesday, the Trucking Alliance requests that FMCSA "amend the definition of actual knowledge to include the employer's knowledge of a driver's positive hair test, which would require such results be reported to the FMCSA Drug and Alcohol Clearinghouse and to inquiring carriers."
---
Injunction Blocking California's AB 5 for Trucking Lifted, for Now 
According to a law alert from transportation legal firm Scopelitis, Gavin, Light, Hanson and Feary, Benitez lifted the injunction, which had been reversed by the Ninth Circuit Court of Appeals in April 2021. The case was eventually elevated to the U.S. Supreme Court, with the injunction remaining in place until the conclusion of the legal battle, and SCOTUS officially declined to hear the case earlier this summer. 
---
Average Used Class 8 Price Weakens Again in July
The average U.S. retail price of a used Class 8 vehicle in July inched past $90,000 to tower over the year-ago price. July's average retail price was $91,928 compared with $64,226 a year earlier.
---
Cross-Border Freight Nears All-Time High 
North American freight is picking up, with cross-border freight hauled by trucks nearing an all-time high once again this year. According to the latest data from the Bureau of Transportation Statistics, the value of cross-border freight moved by trucks in June reached $83.4 billion, a nearly 2% increase from May. Compared to last June, North American truck freight is up 15.5%.
---
Electric Trucks Get Reality Check at ACT Research Conference 
Battery-electric vehicles account for 0.5% of all vehicles on the road when all vehicle classes are considered, noted Patrick Manzi, chief economist at the National Automobile Dealers Association (NADA). "It's going to take a long time before they're the dominant powertrain on the road. It could be one or two decades before they begin to displace the number of combustion engines." 
---
Will Broker Negligence Suits Ripple Out to Limit Owner-Operator Opportunity?
Another case the Supreme Court didn't take up this last term seems to extend brokerage liability in negligence suits through the Western states. The unsettled nature of law in other districts could impact owner-op opportunity short- and long-term.
---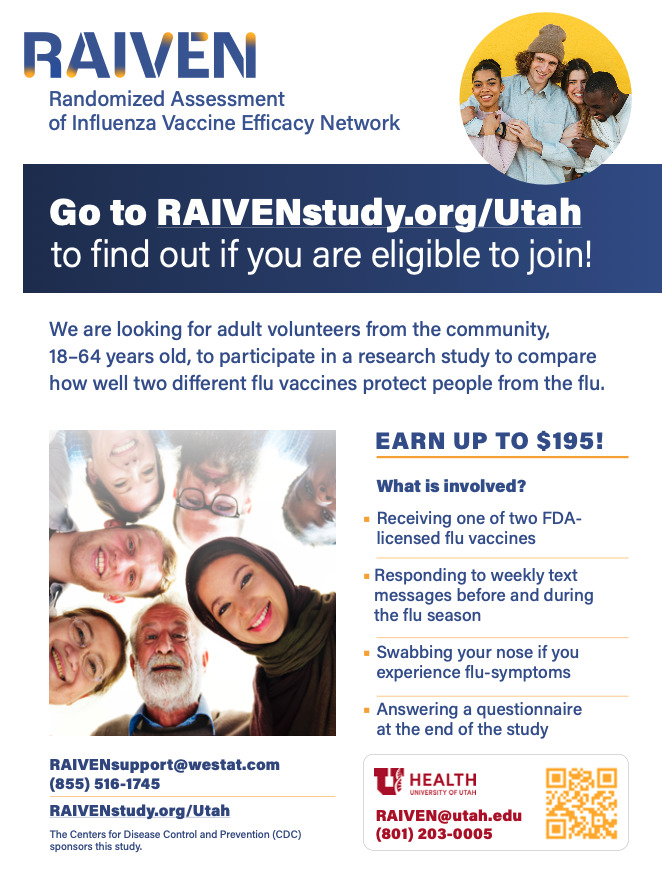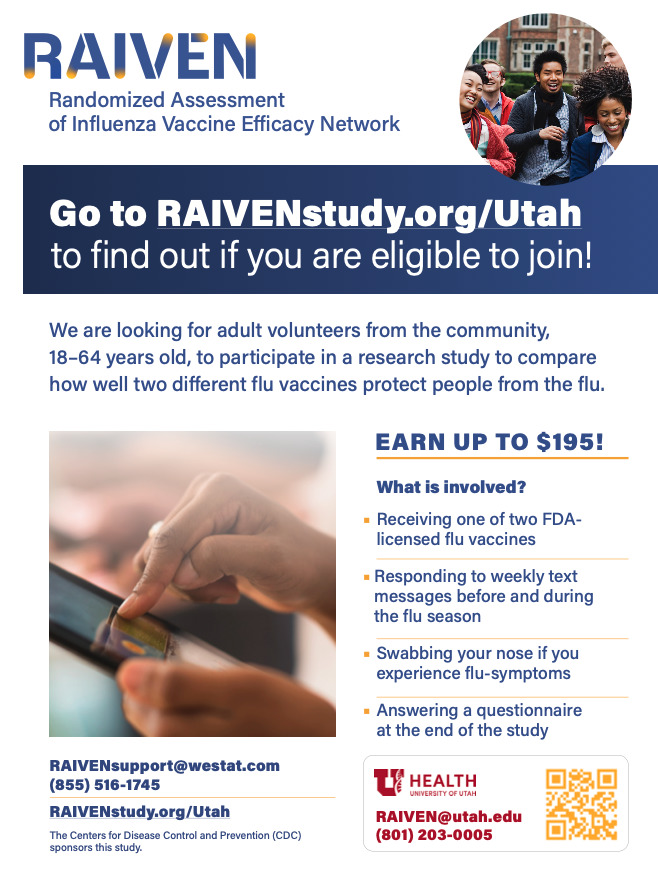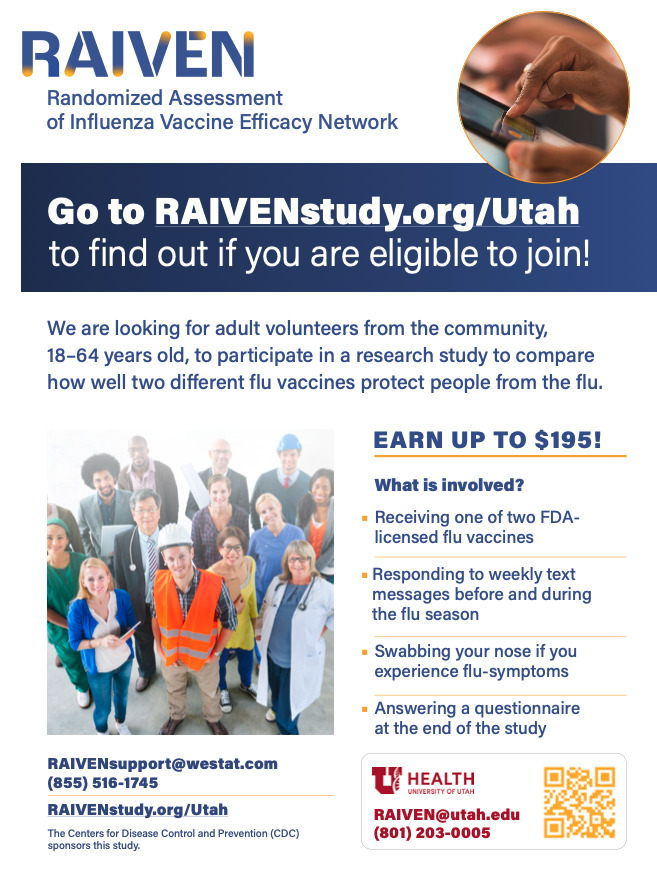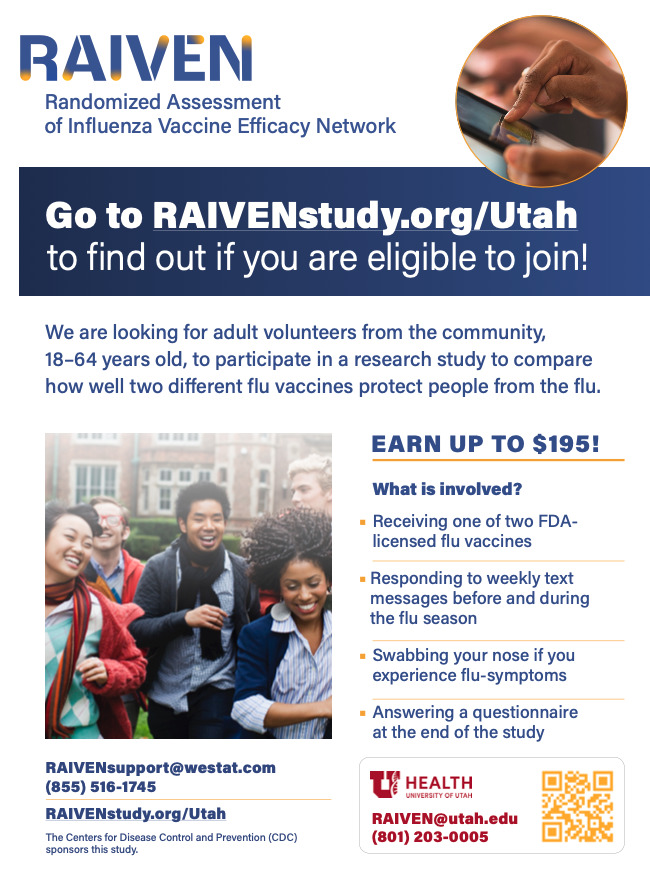 ---
FOR IMMEDIATE RELEASE
September 6, 2022
Contact: Rebecca Brewster (770) 432-0628
TRUCKING INDUSTRY ASKED TO RANK TOP CONCERNS
Atlanta, GA – The American Transportation Research Institute, the trucking industry's not-for-profit research organization, today launched the 2022 Top Industry Issues Survey. The annual survey asks trucking industry stakeholders to rank the top issues of concern for the industry along with potential strategies for addressing each issue.
Now in its 18th year, ATRI's annual analysis not only ranks the issues overall but also provides insights into how critical topics are ranked differently by motor carriers and professional drivers. The report also allows stakeholders to monitor issues over time to better understand which issues are rising, or falling, in criticality.
"The annual Top Industry Issues Survey has long been a crucial part of understanding the issues facing our country's supply chain. ATRI's research provides a chance for thousands of trucking industry professionals, from drivers to executives, to weigh in on the most important topics that affect trucking and collectively decide on the best strategies for addressing each," said ATA Chair Harold Sumerford, Jr., CEO of J & M Tank Lines, Inc.
"I encourage my fellow drivers to take a few minutes and complete the Top Industry Issues Survey. Whether your top issue is truck parking, driver compensation, detention, traffic congestion or something else, it only takes a few minutes to make your voice heard and for us collectively to let the industry know what drivers are most concerned about," said Steve Fields, an America's Road Team Captain and professional truck driver for Yellow.
The results of the 2022 survey will be released October 22, 2022 as part of the American Trucking Associations Management Conference & Exhibition to be held in San Diego, California.
Industry stakeholders are encouraged to complete the 2022 survey available by clicking here. The survey will remain open through October 7, 2022.
ATRI is the trucking industry's 501c3 not-for-profit research organization. It is engaged in critical research relating to freight transportation's essential role in maintaining a safe, secure and efficient transportation system.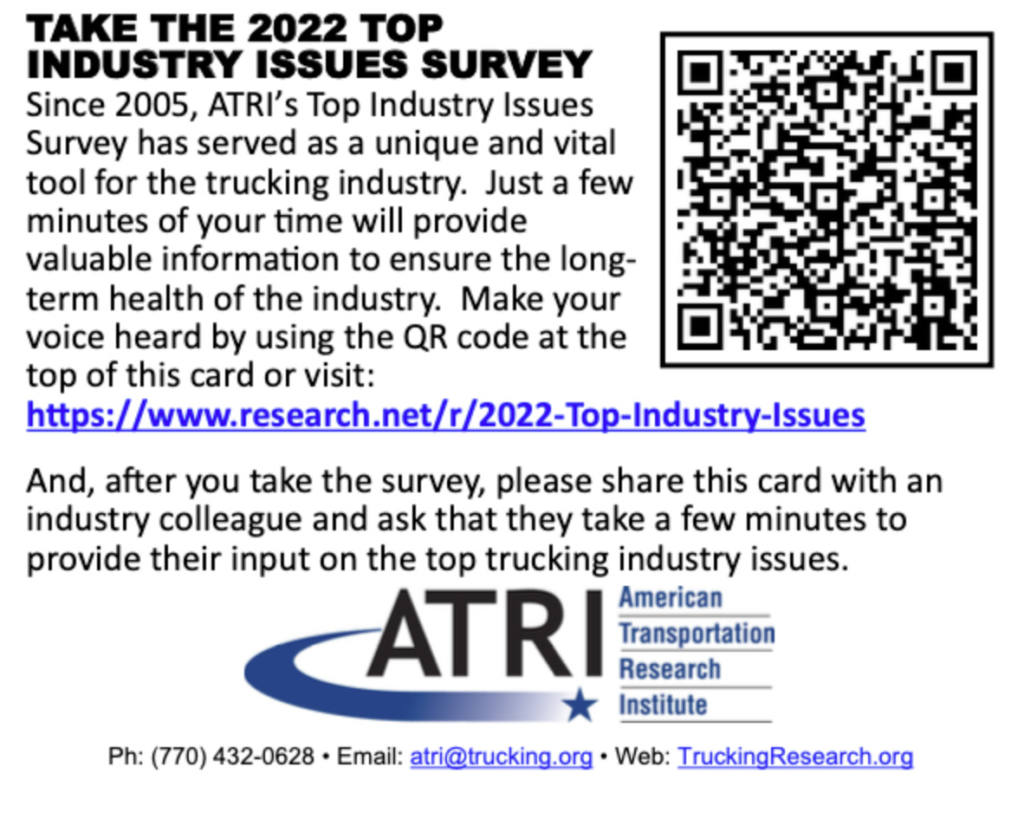 ---
Carriers' Costs Rose Near 13% in 2021 
The cost of trucking in 2021 increased to its highest level in the 15-year history of the American Transportation Research Institute's annual Operational Costs of Trucking research – almost $1.86 per mile.
---
FMCSA Extends COVID-19 Hours of Service Waiver a Shorter-Than-Usual 45 days 
The Federal Motor Carrier Safety Administration today extended its regs waiver related to the COVID national emergency declaration. That waiver, as is detailed in a new alert at the FMCSA's COVID information page, exempts a subset of truckers from maximum-drive-time limits in the hours of service (49 Code of Federal Regulations 395.3). This latest waiver will be active beginning September 1, 2022, only through October 15.
---
ATRI Collecting Top Concerns of Trucking Industry 
The American Transportation Research Institute (ATRI) on Monday launched its 2022 Top Industry Issues Survey, an annual query to trucking industry stakeholders asking them to rank the top issues of concern for the industry along with potential strategies for addressing each issue.
---
FMCSA Reduces 2023 UCR Fees by 31% 
The Federal Motor Carrier Safety Administration announced in a Federal Register notice published Sept. 1 that it is lowering fees collected by states from motor carriers, brokers, freight forwarders and leasing companies as part of the Unified Carrier Registration (UCR) Plan for the 2023 registration year and beyond. The new fees are effective immediately. The new fees are an approximately 31% decrease for all fee brackets, which equates to a reduction between $18 and $17,688, depending on the number of vehicles owned or operated by the company.
---
Why Do Brake Defects Put so Many Trucks Out of Service? 
The Commercial Vehicle Safety Alliance conducts two major brake inspection initiatives each year. Year over year, the brake defect out-of-service rate remains about the same. The puzzling question is, why aren't we making progress in bringing those numbers down?
---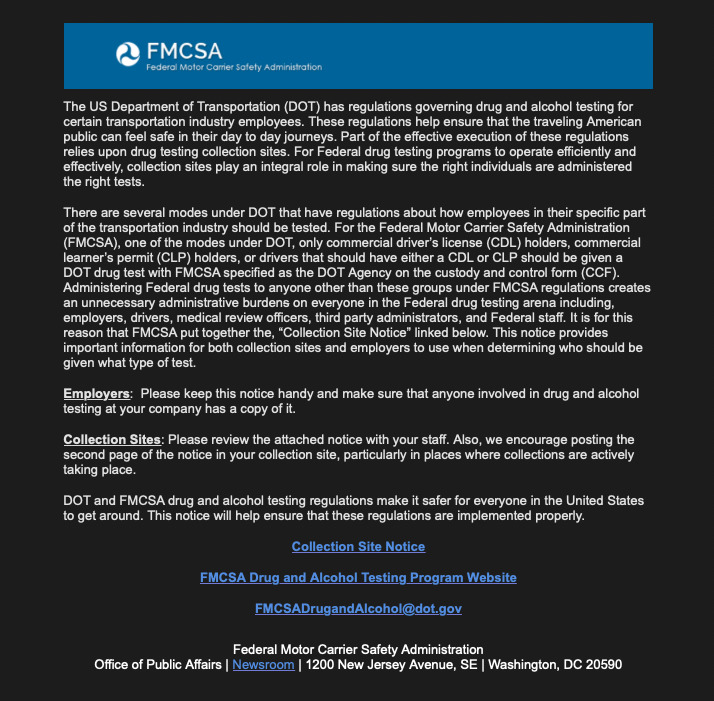 ---
Thank You To Our Advertising Sponsors!