---
Upcoming Events:
Facebook Advertising Foundations Seminar: January 26th, 2023
CSS & CDS Fleet Safety Certification Courses: February 13th – 17th, 2023
SUTA Charitable Golf Tournament: March 29th, 2023
Utah Trucking Association Management Conference & Trucking Expo: May 10th – 12th, 2023
Announcements:
January is National Human Trafficking Awareness Month
Special Offers:
The CDC research study offering $195 to receive your FDA approved flu shot. (See Below for More Detail)
Truckers Against Trafficking came out with an ELD-friendly platform called eTAT. (See Below for More Detail)
Platinum HR is offering a $100 discount for an Employee Handbook Review. (See Below for More Detail)
Holiday Inn Express & Suites St. George North – Zion is offering a special rate to all UTA members throughout the year. (See Below for More Detail)
OneDigital lines up Financial Educational Seminars. (See Below for More Detail)
---
Events and Announcements:
January 26th, 2023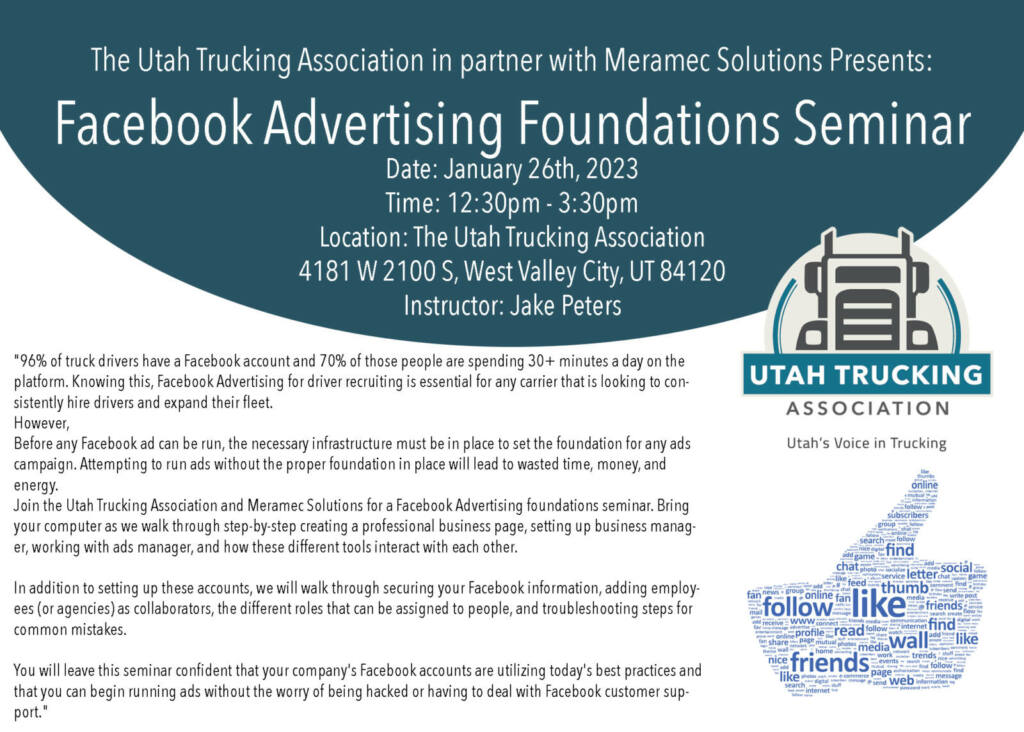 ---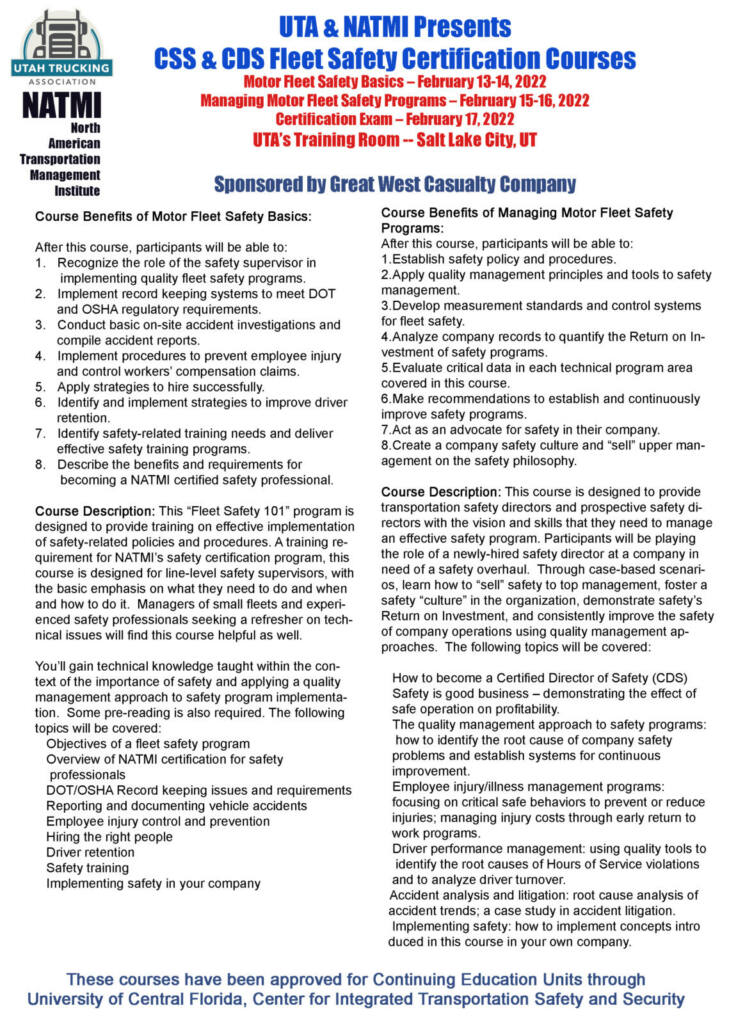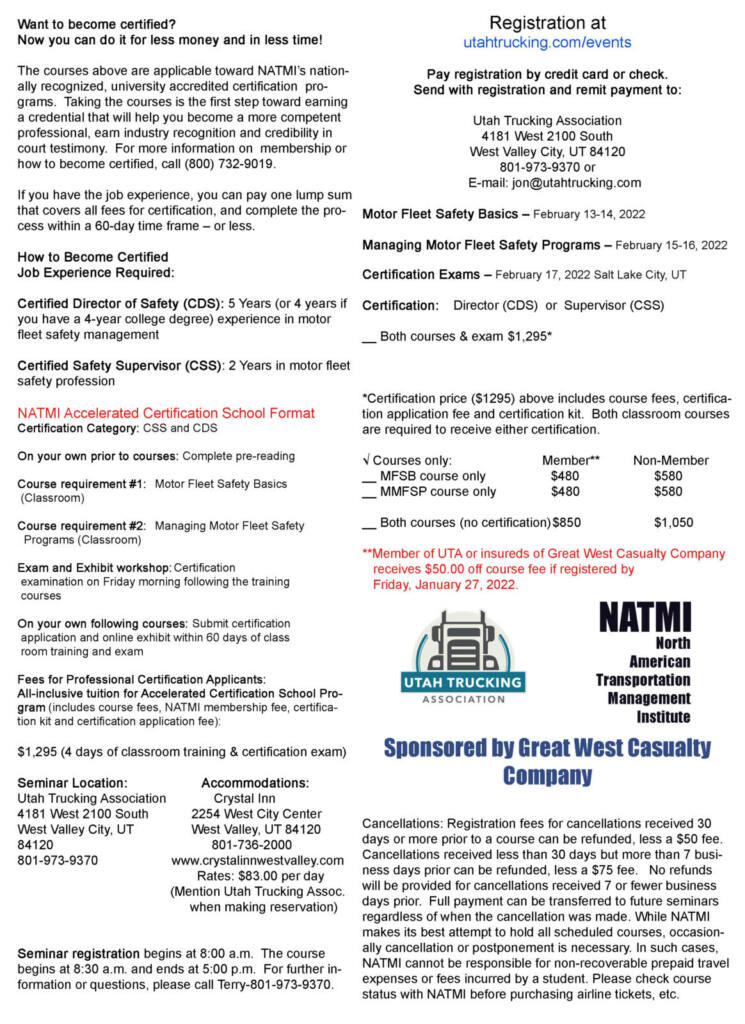 ---
March 29th, 2023
Save the Date!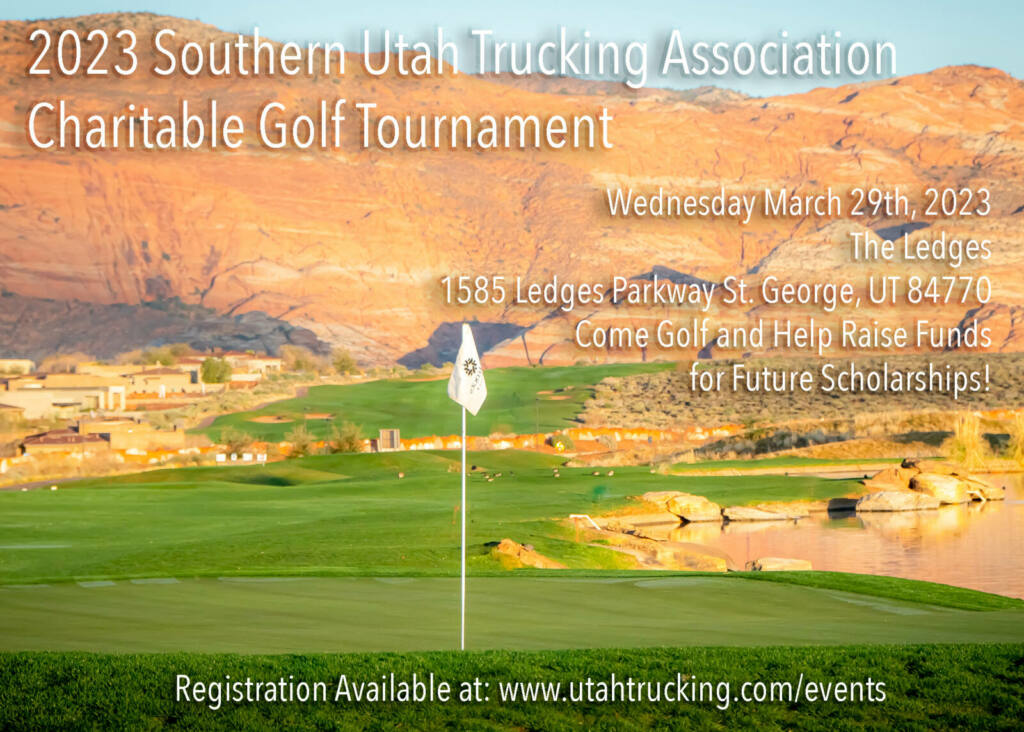 ---
May 10th – 12th, 2023
Save the Date!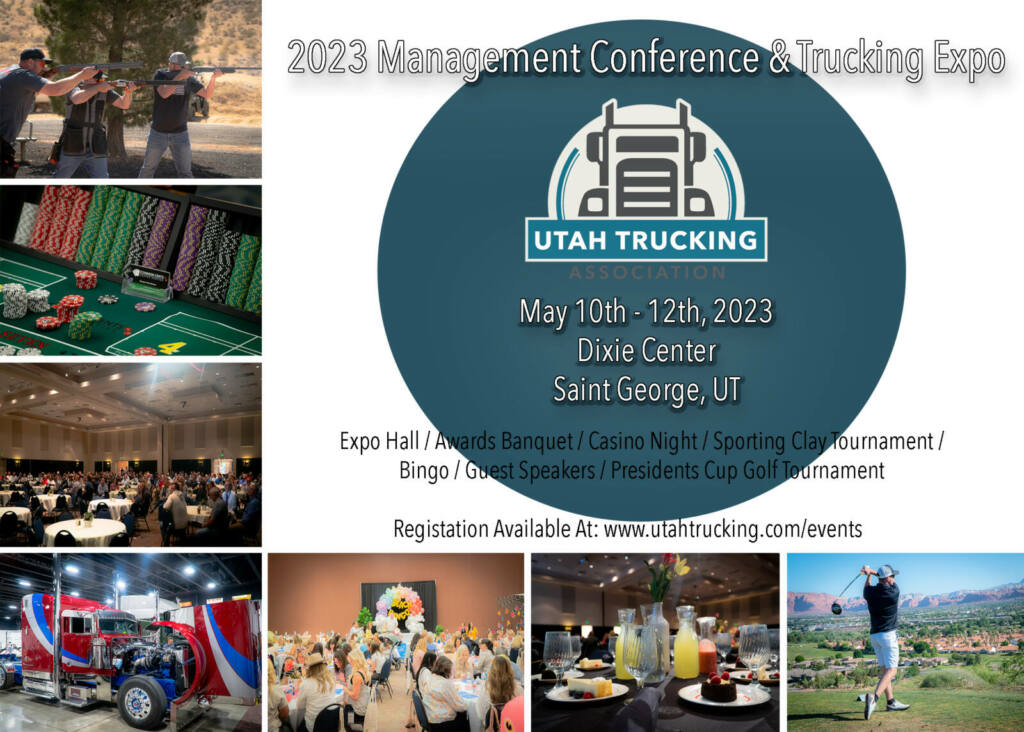 ---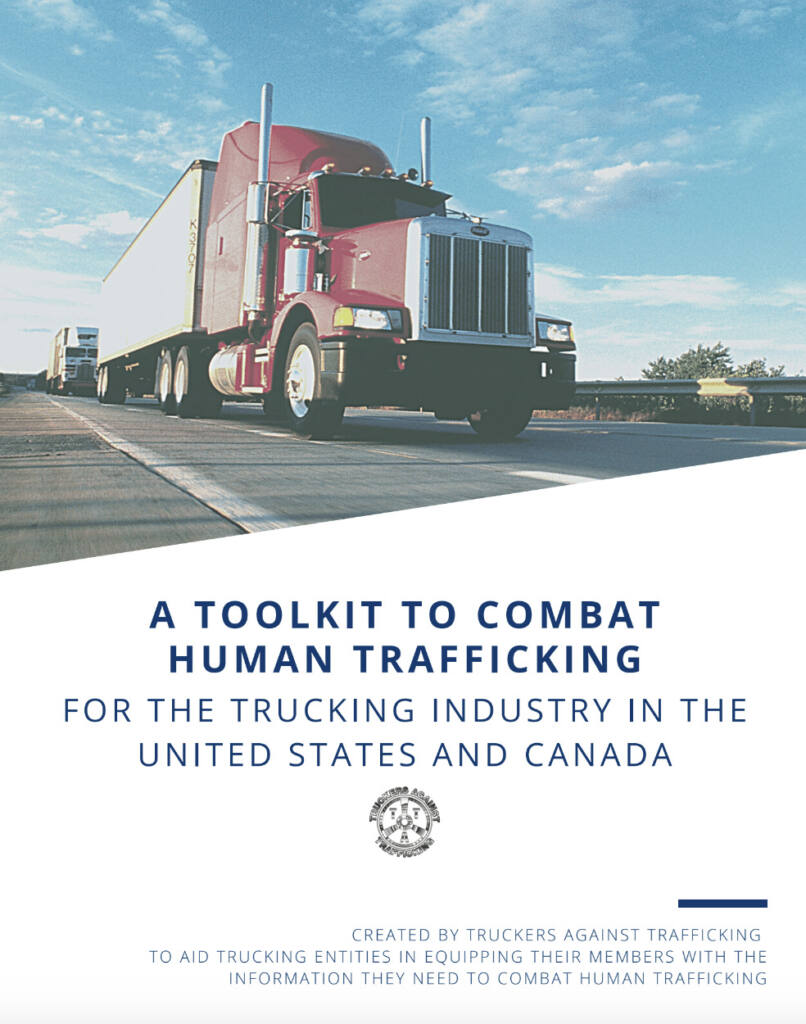 ---
Resources:
Get More With Access Perks!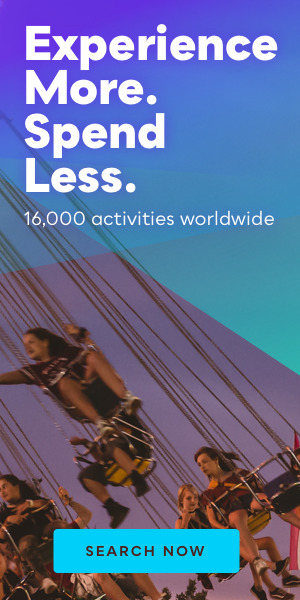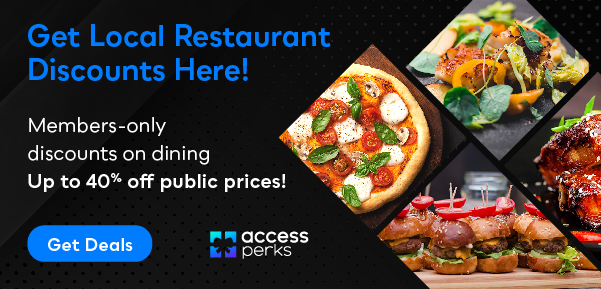 ---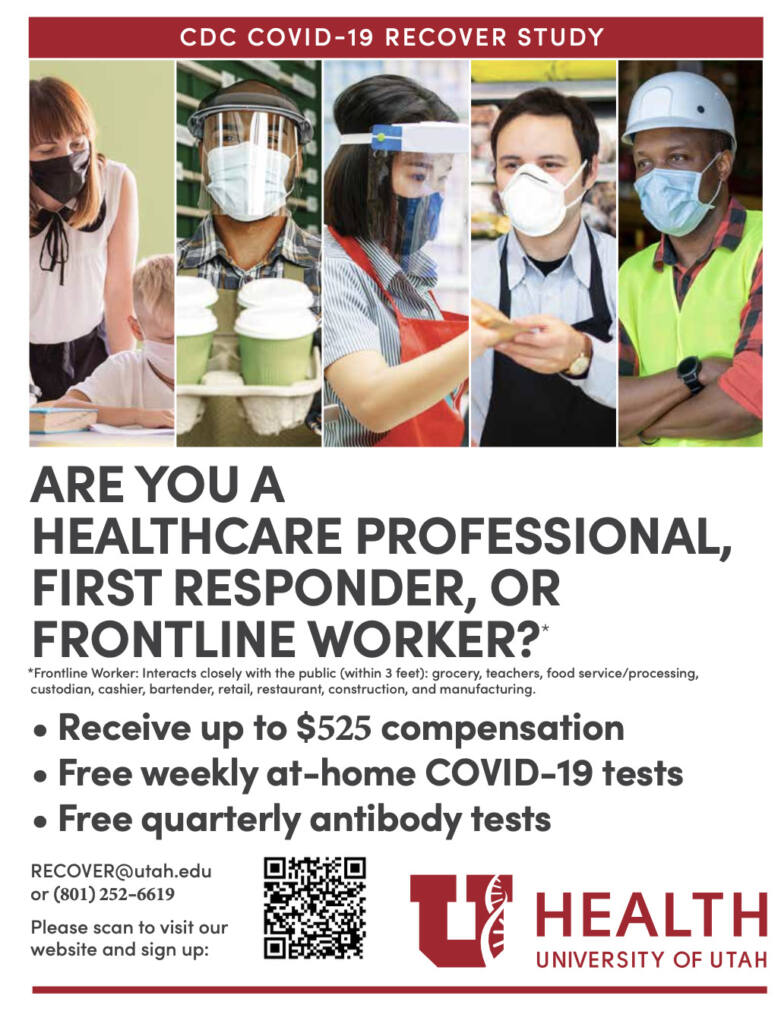 ---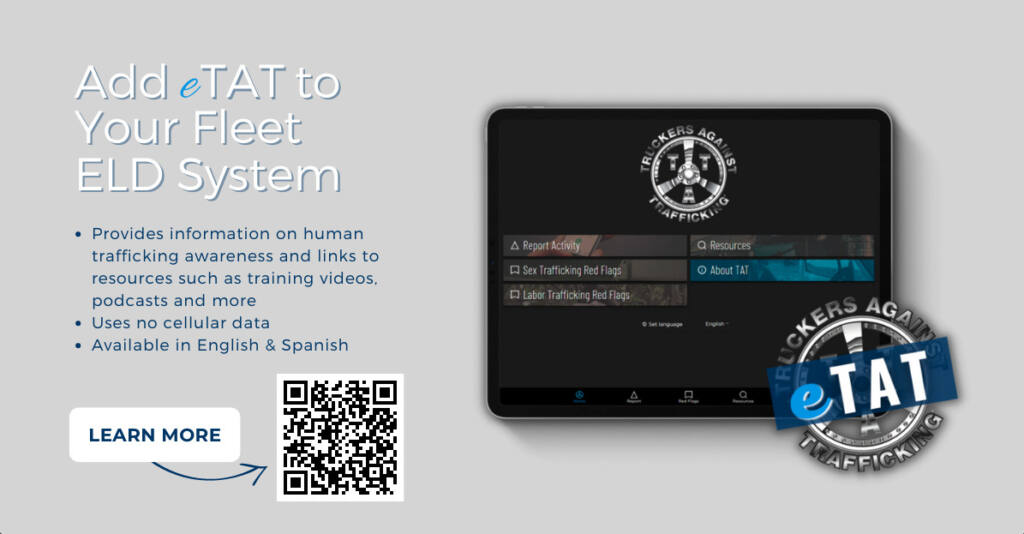 ---
Samba Safety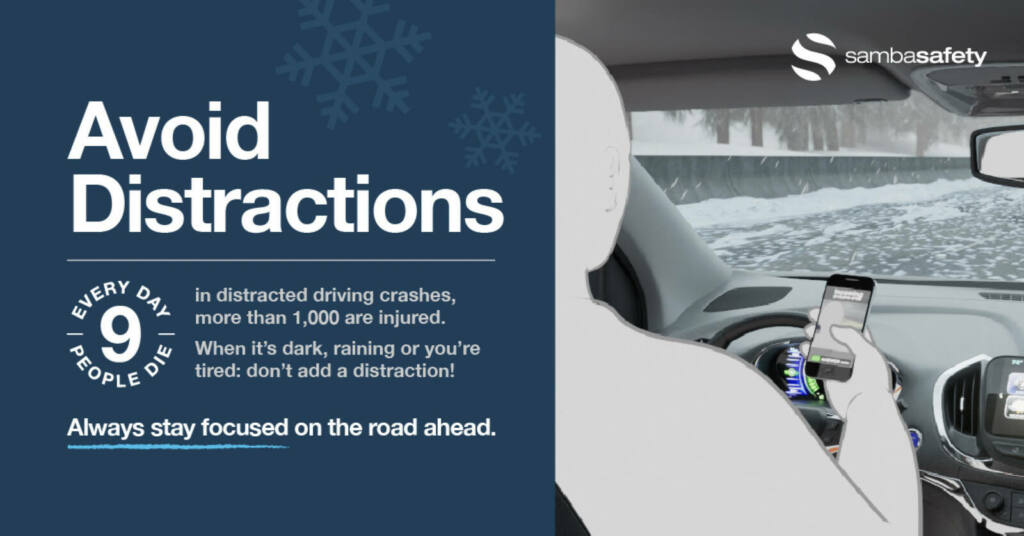 ---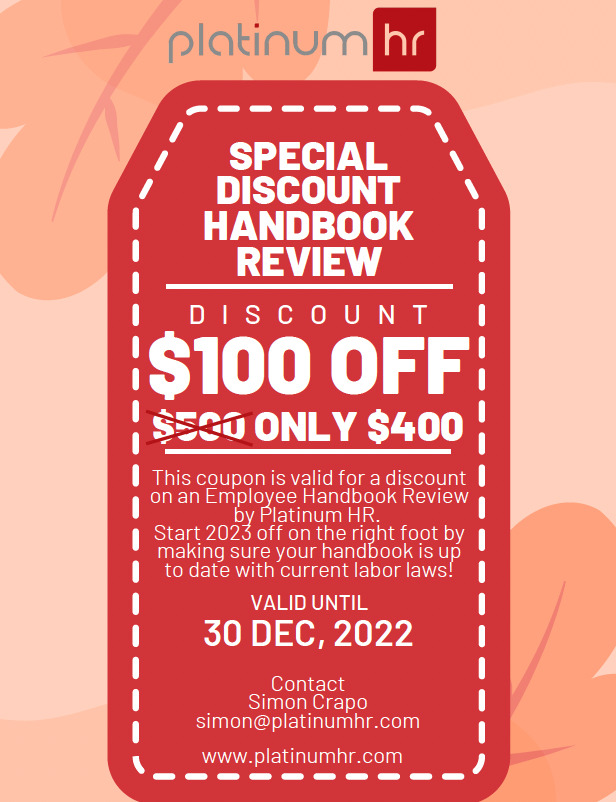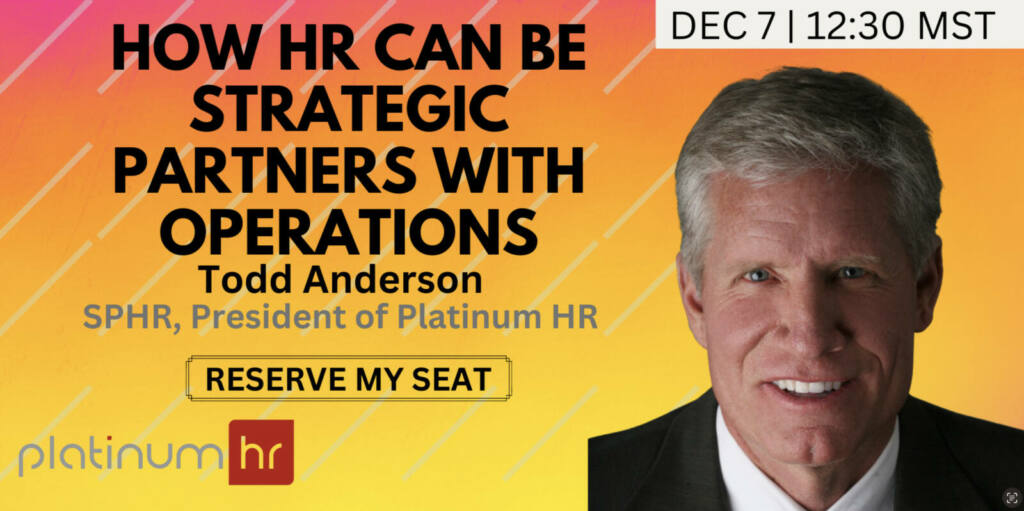 FREE Monthly Webinar for December. The topic will be "How HR can be strategic partners with Operations". We will be holding this on Wednesday, Dec 7th at 12:30 MST.
We will be discussing things such as:
Which tasks can HR take off the plates of its operations partners
How can HR help develop and administer programs to motivate and incentivize employees
HR can ensure that the company is compliant with the myriad of state and federal labor laws
---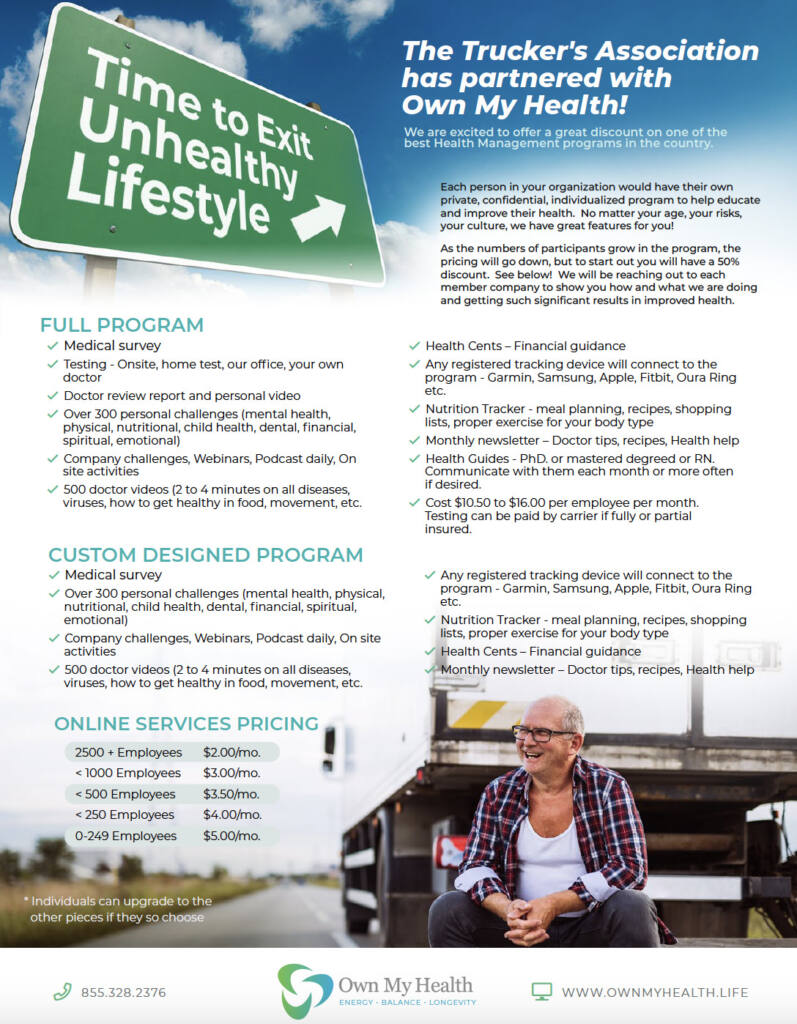 ---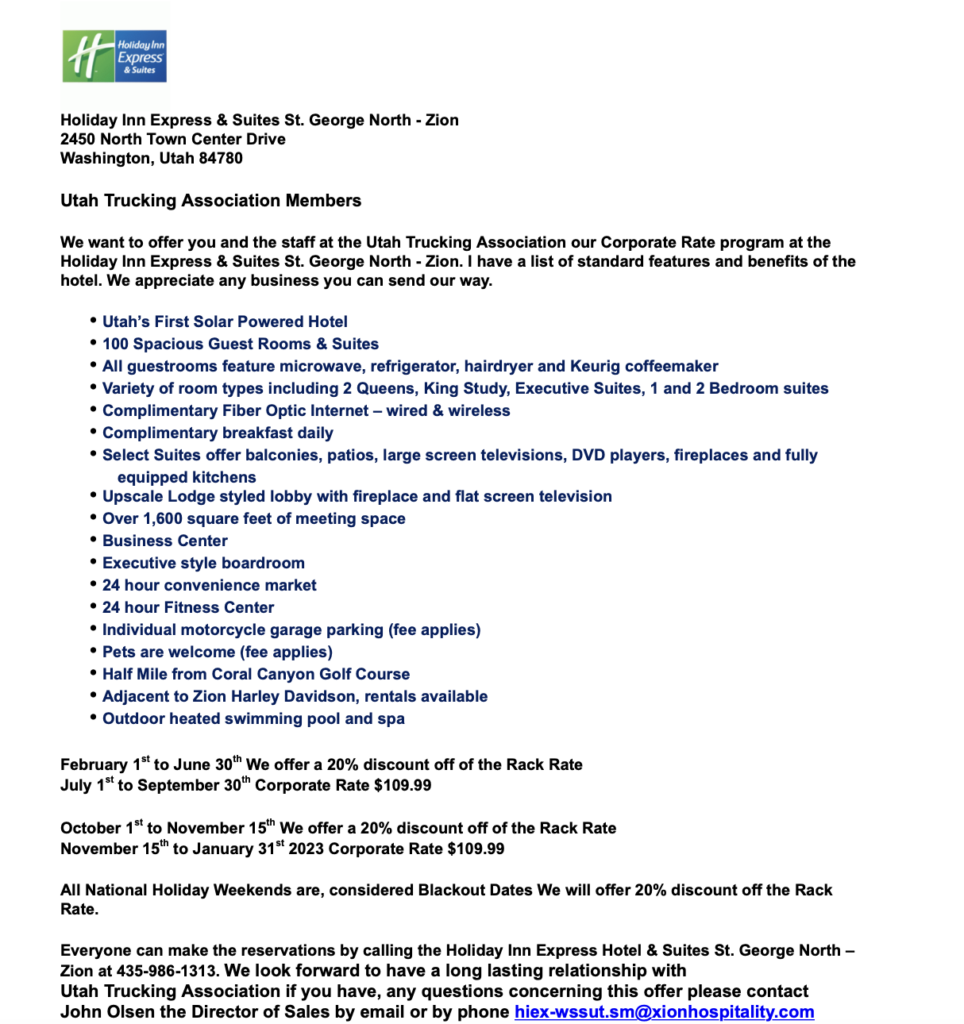 ---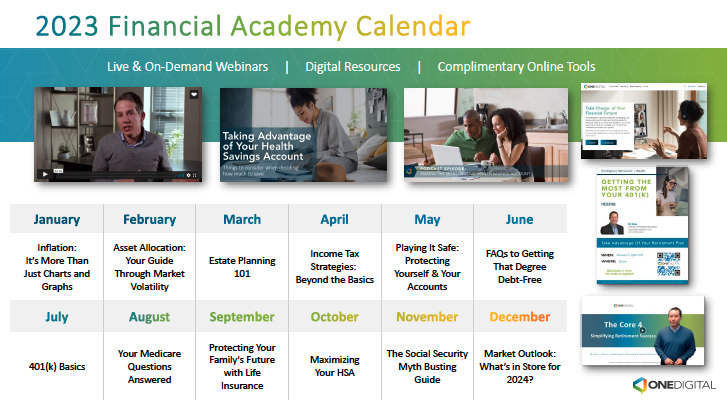 Good afternoon,
With 2022 nearly in the rearview, it's time to shift our focus forward. What did we learn financially in 2022? Many of us learned that inflation is real and that the financial decisions we make today can certainly impact our future financial success. We are pleased to provide you access to another year of financial education through our partners at OneDigital.
You will find keys to success on OneDigital's Financial Academy! Here you can access invitations to private webinars and on-demand replays at your fingertips.
Each month, a OneDigital adviser will host a live education opportunity and offer tips you can use to succeed with your personal finances.
Up next, we hope you'll join us for: 
• Asset Allocation: Your Guide Through Market Volatility – February 14th
• Estate Planning 101 – March 14th
Joining live is ideal as you can engage in Q&A with our advisors, but keep in mind that all sessions are available OnDemand as well.
Happy Holidays and Happy Savings!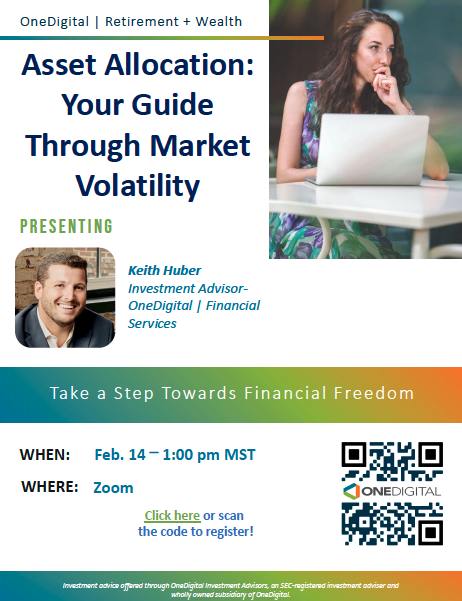 ---
News:
Truck Parking Is Top Issue for Drivers 
With 313,000 truck parking spaces existing nationwide, according to a recent survey conducted by the Federal Highway Administration, American Trucking Associations and the Owner-Operator Independent Drivers Association estimate there is one parking spot for every 11 drivers.
---
New, Pending, and Possible Rules and Regulations Facing Fleets in 2023 
With a new year comes new laws and regulations. The trucking industry could see some changes to vehicles, how drivers are drug tested, and how carriers work with owner-operators.
---
Rep. Sam Graves to Lead House Transportation Panel 
A familiar face in the transportation community will lead the congressional committee on freight policy in the U.S. House of Representatives. Republicans in the chamber chose Rep. Sam Graves (R-Mo.) to manage the affairs of the Transportation and Infrastructure panel during the 118th session of Congress.
---
FMCSA Proposes Update to Broker Finance Requirements 
To ensure carriers are properly paid for hauling freight, FMCSA proposes new rules regarding brokers' financial security requirements so that they have reserves to pay claims levied against them.
---
FMCSA Considering Changes to ELD Rules 
The Federal Motor Carrier Safety Administration is asking for comments on how to improve its mandatory electronic logging device regulations, which potentially could result in the first substantial changes to the ELD rules since their implementation. 
---
Can the Power Grid Survive Electric Trucking? 
ATRI followed up that report with the results of more research focused on the infrastructure challenges of EV adoption. The results of that research turned up three key infrastructure-related challenges that will impact truck electrification: U.S. electricity supply and demand, electric vehicle production, and truck charging requirements.
---
FMCSA Updates Guidance for Truck Driver Medical Examiners 
For the first time in seven years, physicians have reliable guidance they can use to help determine if commercial truck drivers are physically fit to operate their vehicles. The Federal Motor Carrier Safety Administration on Tuesday published a draft of its new Medical Examiner's Handbook (MEH). The handbook provides information on driver health requirements and guidelines used by medical examiners (MEs) listed on FMCSA's National Registry of Certified Medical Examiners to interpret regulations on physical qualifications for commercial drivers.
---
Shippers Remain in Control of Rates, but 2023 Could Bring Balance 
Shippers are in the driver's seat as spot and contract rates continue to soften, but industry analysts said rates likely will stabilize throughout 2023. 
---
Five States Extend Driving Hours for Heating Fuel Deliveries 
Colorado, North and South Dakota, Utah and Wyoming have declared temporary emergency exemptions of federal driving hours for deliveries of heating fuel. A temporary exemption through Jan. 31 from federal hours-of-service regulations for commercial drivers hauling consumer heating fuels, propane and natural gas.
---
How the War in Ukraine Will Impact Trucking and Logistics 
Though the U.S. domestic trucking industry remains mostly insulated from the flow of goods internationally, Ukraine and Russia represent major global players in metals, energy and food supplies that will likely worsen inflation and cause pain points for American fleets.
---
New NTSB Report Finds Booze, Pot as Primary Drugs Detected in Impaired Drivers 
Actions from federal and state agencies are needed to address the continuing problem of impaired driving, including from alcohol, cannabis and multiple drug use, the National Transportation Safety Board (NTSB) said in a new report released on Jan 12.
---
New Emissions Rules Take Effect in California 
In the wake of stricter smog rules from the EPA, the California Air Resources Board Truck and Bus Fleet Regulation January 1 deadline recently passed that requires almost all trucks and buses to have 2010 or newer model year engines. Vehicles not in compliance may not be registered in the state.
---
US, Mexico and Canada Take on 5 Initiatives to Strengthen Supply Chain Resilience 
U.S., Mexico and Canada will collaborate on five initiatives to improve North American supply chain resilience and grow industries such as EV and semiconductor manufacturing, the White House said.
---
FMCSA Proposes Long-Overdue Broker, Freight Forwarder Financial Regs   
More than 10 years after they were required by Congress, FMCSA has finally published a proposal for implementation of several regulations for brokers and freight forwarders that will help protect motor carriers in the event of non-payment, including the ability to immediately suspend a broker's authority after claims on the bond/trust. FMCSA will accept comments on its new NPRM for 60 days beginning Thursday.
---
FMCSA Announces Action on Two Driver Training Exemption Requests 
The agency granted one waiver for a hazmat endorsement trainer, and denied another for certain water well equipment haulers.
---
EPA Eyeing More Strict Particulate Matter Regulation
EPA just last month issued "challenging" new emission standards for heavy-duty commercial vehicles for the 2027 model year, and now it's giving 60 days for public comments on its proposed new particulate matter/soot regulations. 
---
2022 Saw Significant Uptick in Cargo Theft Activity 
Cargo theft recording firm CargoNet recorded 1,778 supply chain risk events across the United States and Canada in 2022, a 15% increase over 2021. Almost half of all cargo theft reports occurred in California, Texas and Florida in 2022. 
---
Thank You To Our Advertising Sponsors!