---
Upcoming Events:
CSS & CDS Fleet Safety Certification Courses: February 13th – 17th, 2023
Announcements:
Southern Utah Trucking Association Scholarship Applications is Open again. Applications due Dec 31st, 2022.
Special Offers:
The CDC research study offering $195 to receive your FDA approved flu shot. (See Below for More Detail)
Truckers Against Trafficking came out with an ELD-friendly platform called eTAT. (See Below for More Detail)
Platinum HR is offering a $100 discount for an Employee Handbook Review. (See Below for More Detail)
Holiday Inn Express & Suites St. George North – Zion is offering a special rate to all UTA members throughout the year. (See Below for More Detail)
---
Events and Announcements: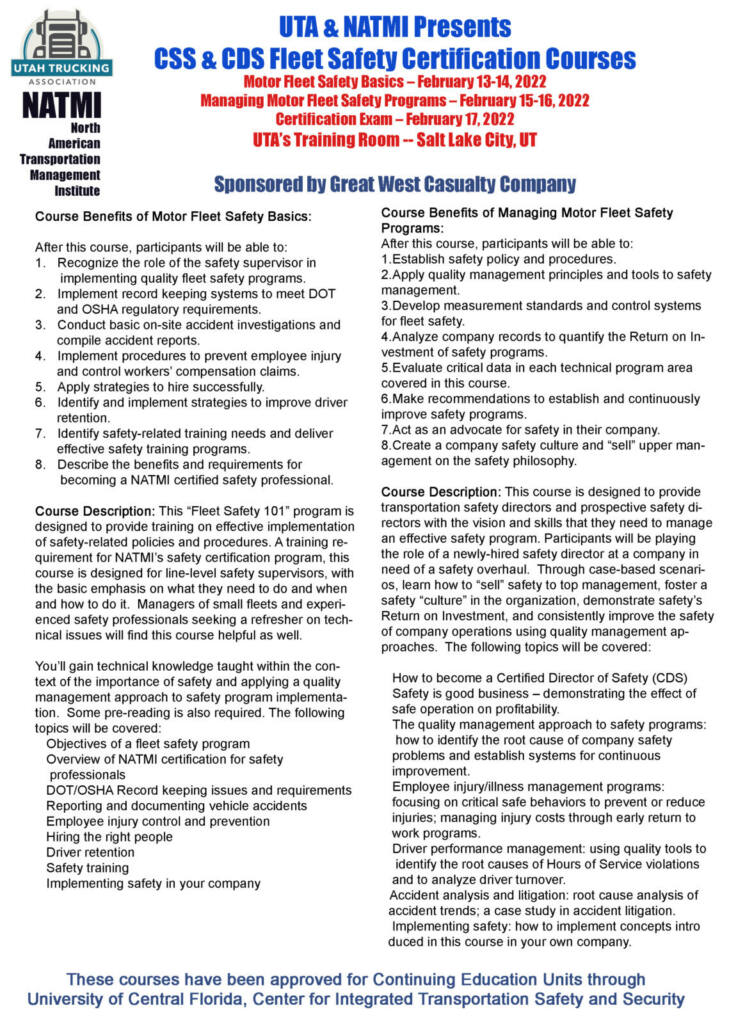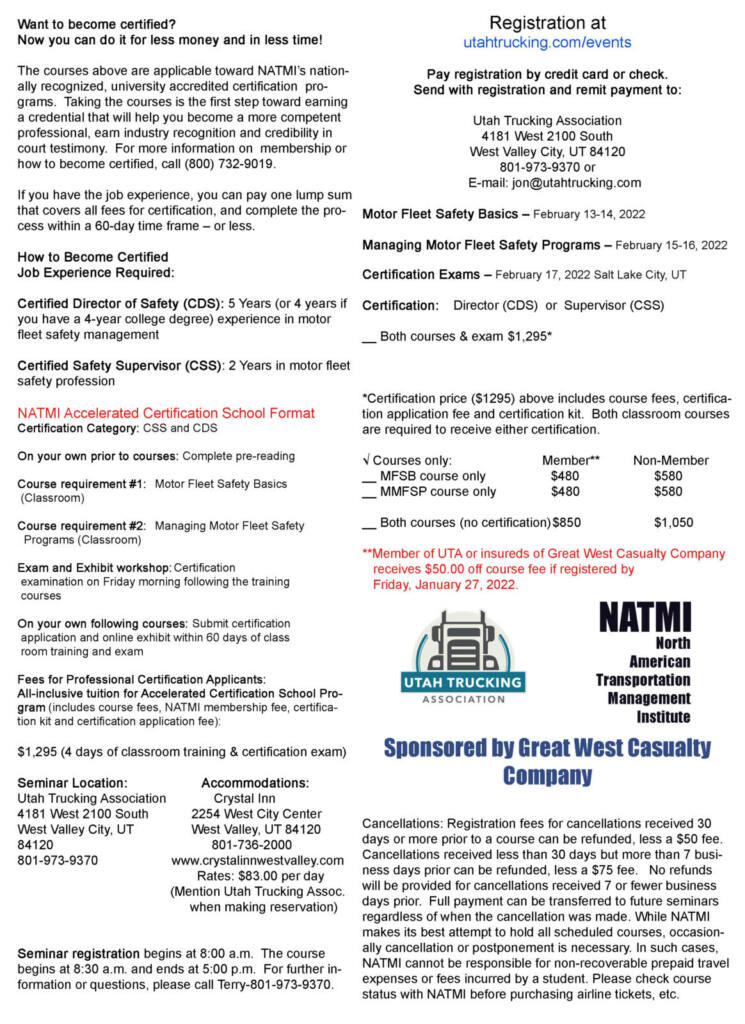 ---
2022 Southern Utah Trucking Association Scholarships
Get your applications in quick!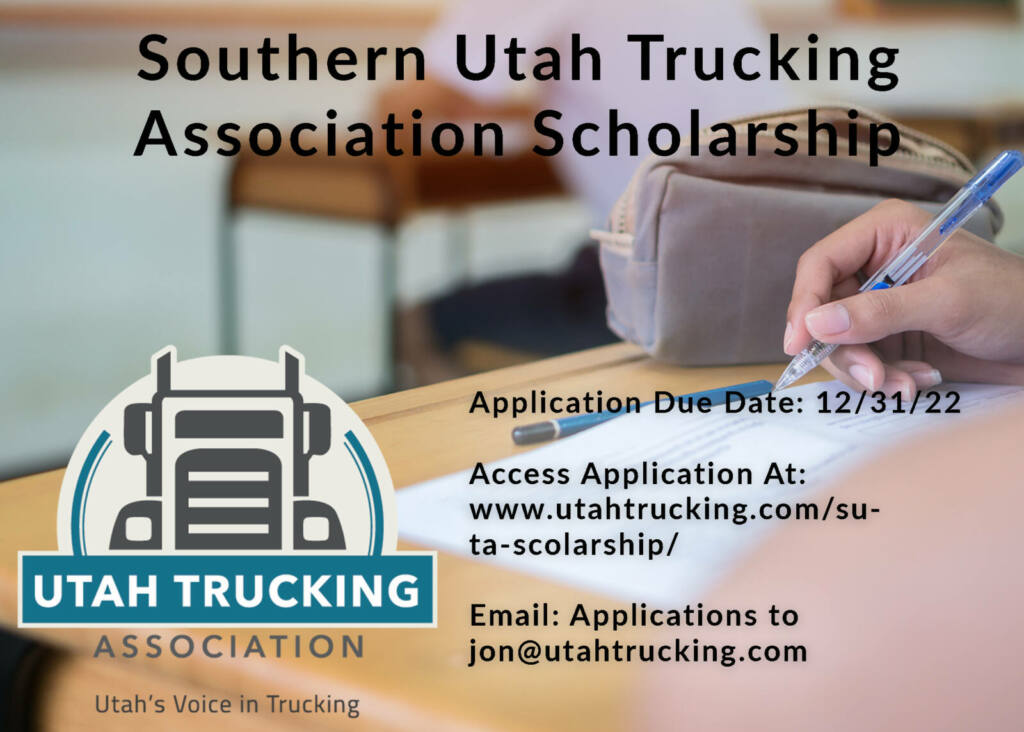 ---
Resources:
Get More With Access Perks!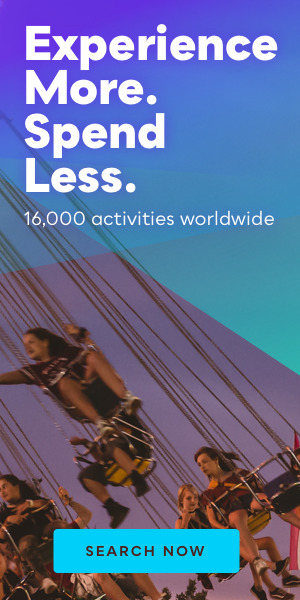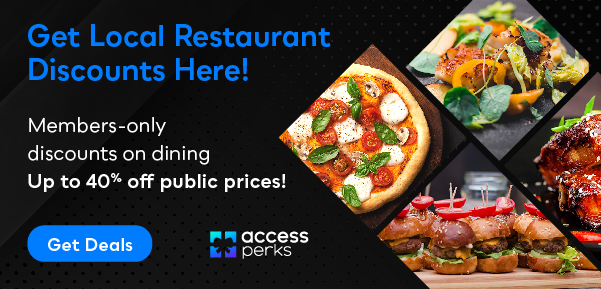 ---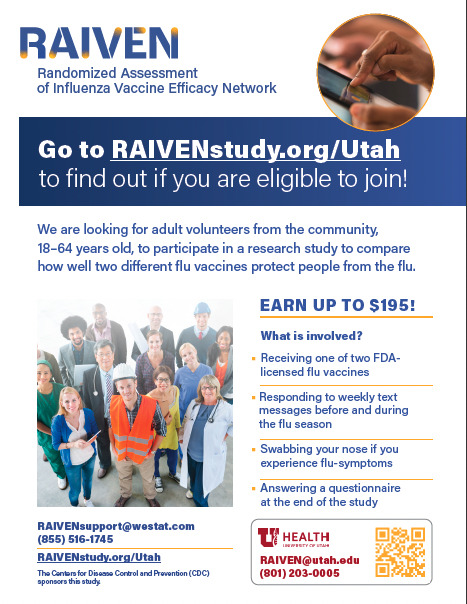 ---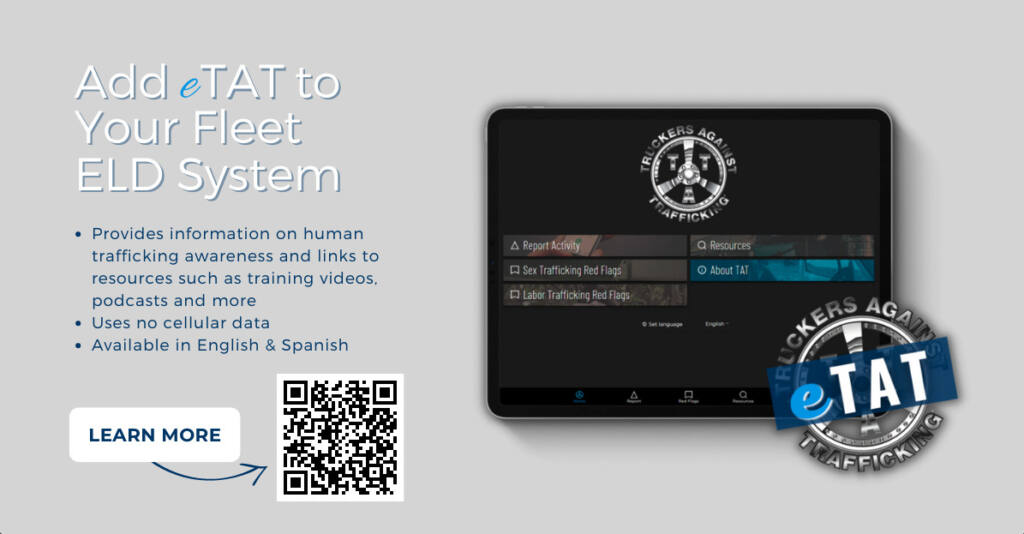 ---
Samba Safety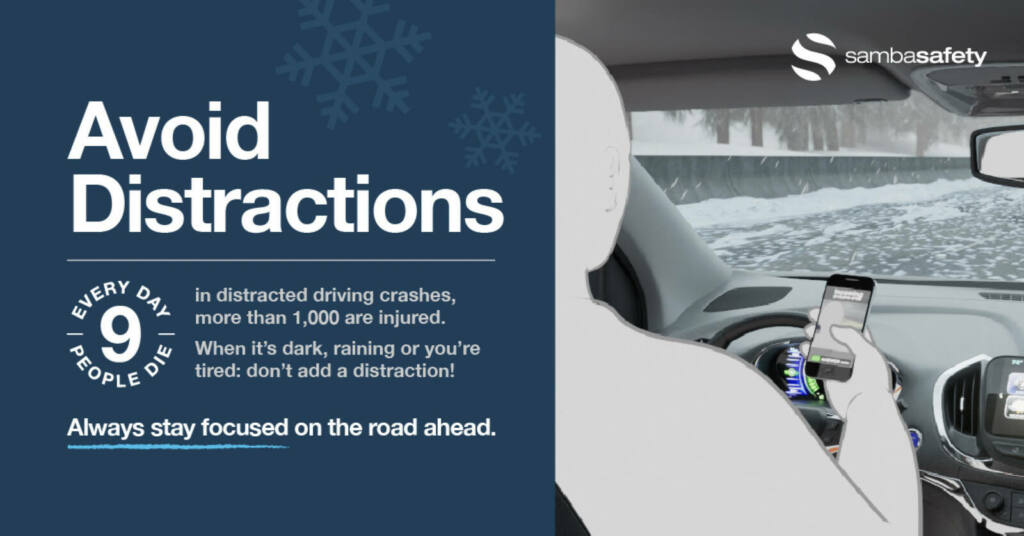 ---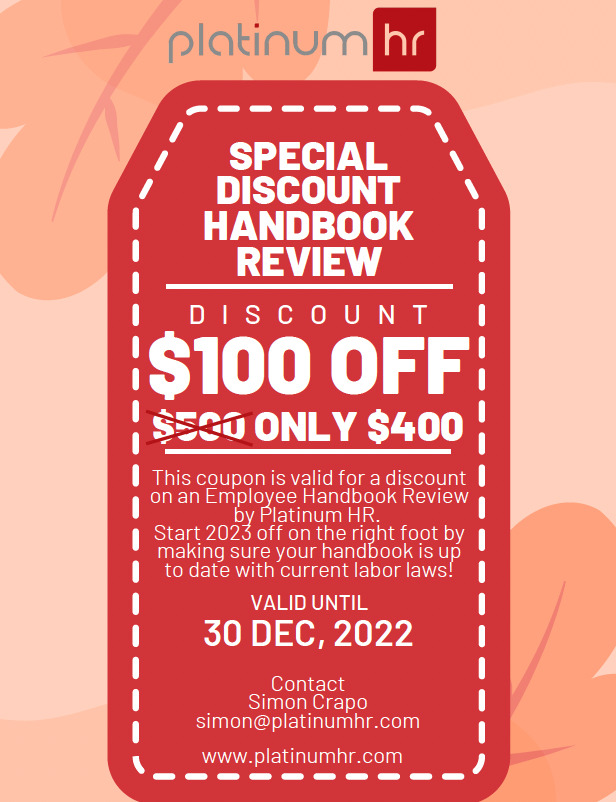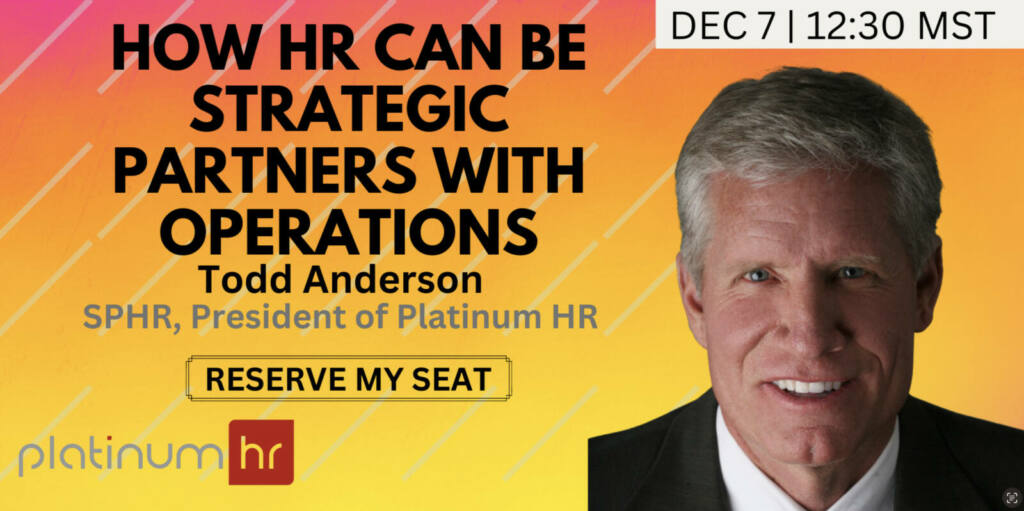 FREE Monthly Webinar for December. The topic will be "How HR can be strategic partners with Operations". We will be holding this on Wednesday, Dec 7th at 12:30 MST.
We will be discussing things such as:
Which tasks can HR take off the plates of its operations partners
How can HR help develop and administer programs to motivate and incentivize employees
HR can ensure that the company is compliant with the myriad of state and federal labor laws
---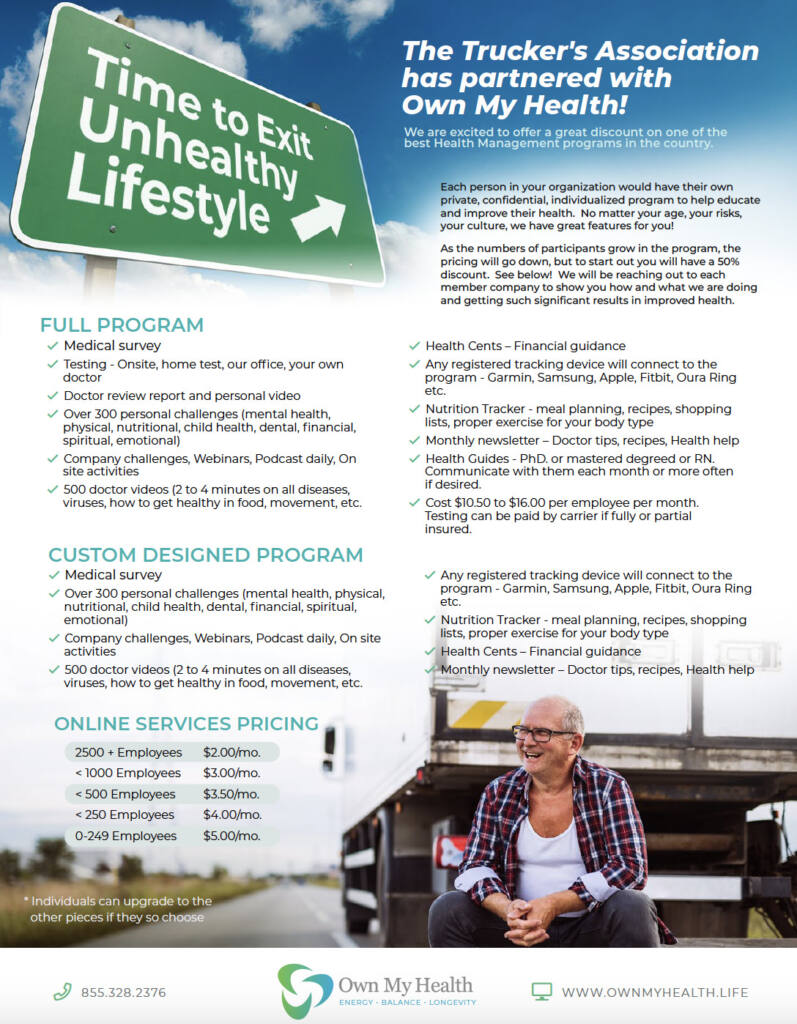 ---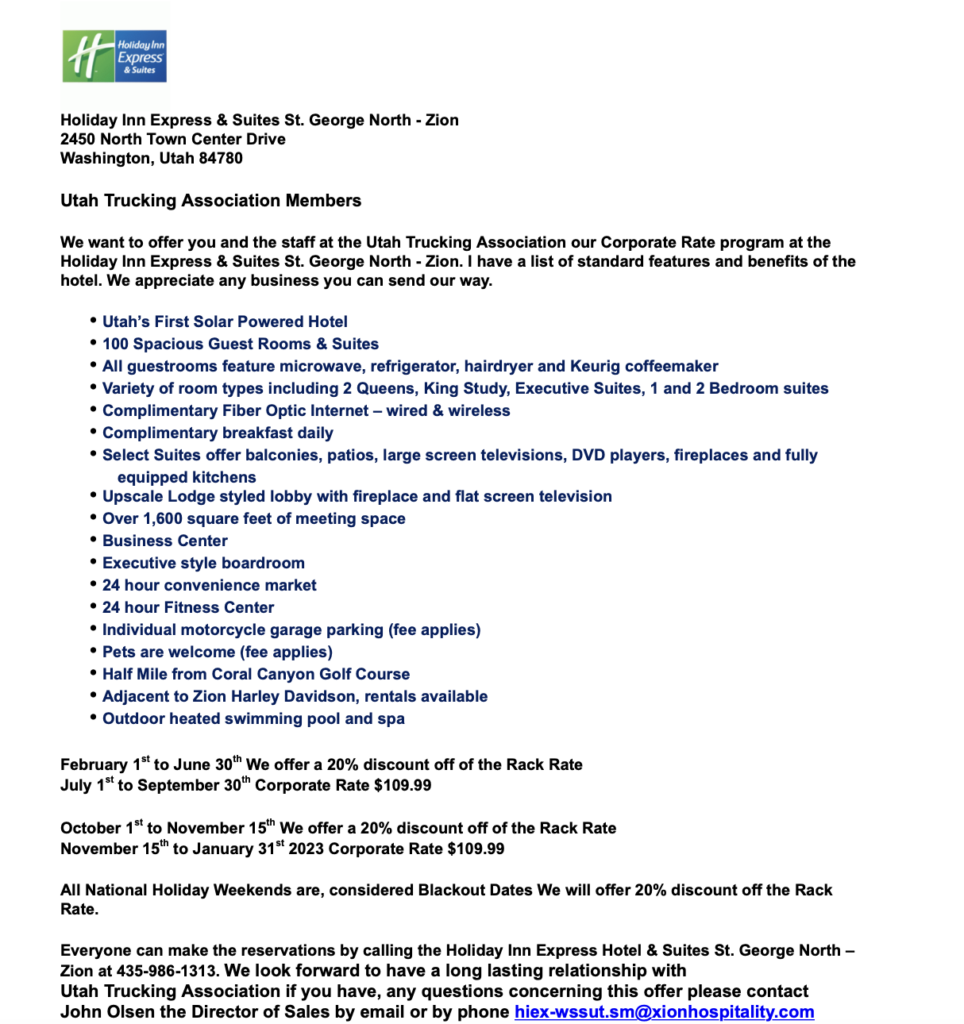 ---
News:
Canadian ELD Mandate Set for Jan. 1 Enforcement Deadline 
While the federal mandate takes effect at the beginning of the year, some provinces are not ready to enforce on provincially-regulated carriers.
---
FMCSA Proposing to Limit Scope of Emergency Declarations 
As a result of the unprecedented COVID-19 emergency declaration that waived certain regulations for motor carriers and truck drivers for well over two years. Though the COVID-19-related National Emergency and Public Health Emergency declarations remain in place at the federal level, FMCSA's own COVID-related waiver, originally tied to the March 13, 2020, national presidential declaration, was extended and modified numerous times before it was allowed to expire on Oct. 15 this year.
---
Driver Recruitment and Retention Agencies Release Fall 2022 Truck Driver Survey Results 
This survey is essential for understanding what issues are important to truck drivers in today's market. Some of the topics covered in the Fall 2022 Survey include the increase or decrease of miles upon lower freight volumes, shipper/consignee issues and delays, sign-on bonuses, home time, how drivers approach online content, and more. 
---
Four Ways to Avoid CSA Violations 
Fleets don't have to be at the mercy of safety inspectors; they can reduce their risk of violations by following these simple steps.
---
Survey Reveals 56% of Passenger Car Drivers Feel Unsafe Driving Beside a Commercial Truck 
More than half (56%) of passenger car drivers have felt unsafe driving next to a commercial truck in the past year, and 64% have witnessed unsafe driving behaviors among commercial truck drivers.
---
New Report Suggests US Isn't Ready for Mass Vehicle Electrification 
Full electrification of the U.S. vehicle fleet would require a very large percentage of the country's current electricity generation, and some states would need to generate as much as 60% more electricity than is presently produced to meet the demand.The American Transportation Research Institute (ATRI) released these and other findings in a new report that assesses the infrastructure requirements for converting the U.S. vehicle fleet to battery electric.
---
Bhatt Confirmed to Lead Federal Highway Administration 
Shailen Bhatt was confirmed as the 21st administrator of the Federal Highway Administration by the U.S. Senate, the Department of Transportation announced Dec. 8. Bhatt, the first administrator of Indian descent, will be responsible for managing an agency currently disbursing funds approved in the $1 trillion Infrastructure Investment and Jobs Act.
---
Thank You To Our Advertising Sponsors!