---
Upcoming Events:
Lunch and Learn with Beehive Insurance Agency: TBA
Great Salt Lake Truck Show: August 4th – 5th, 2023
NUTA Luncheon: September 6th, 2023
Safety Management Council Luncheon: September 7th, 2023
UTA TruckPAC Golf Tournament: September 20th, 2023
Lunch and Learn with Moreton & Company: September 26th, 2023
Announcements:
Nominations Are Open: Transport Topics Spends First Half of 2023 Looking for Heroes
Special Offers:
The University of Utah , Cal Poly, Montana Tech, and Texas A&M University has developed a new emerging technologies free online specific to site BioHazzard class.
Meramec Solutions is planning to push a promotion to UTA members where they will provide their services for 1 week for free.
---
Events and Announcements: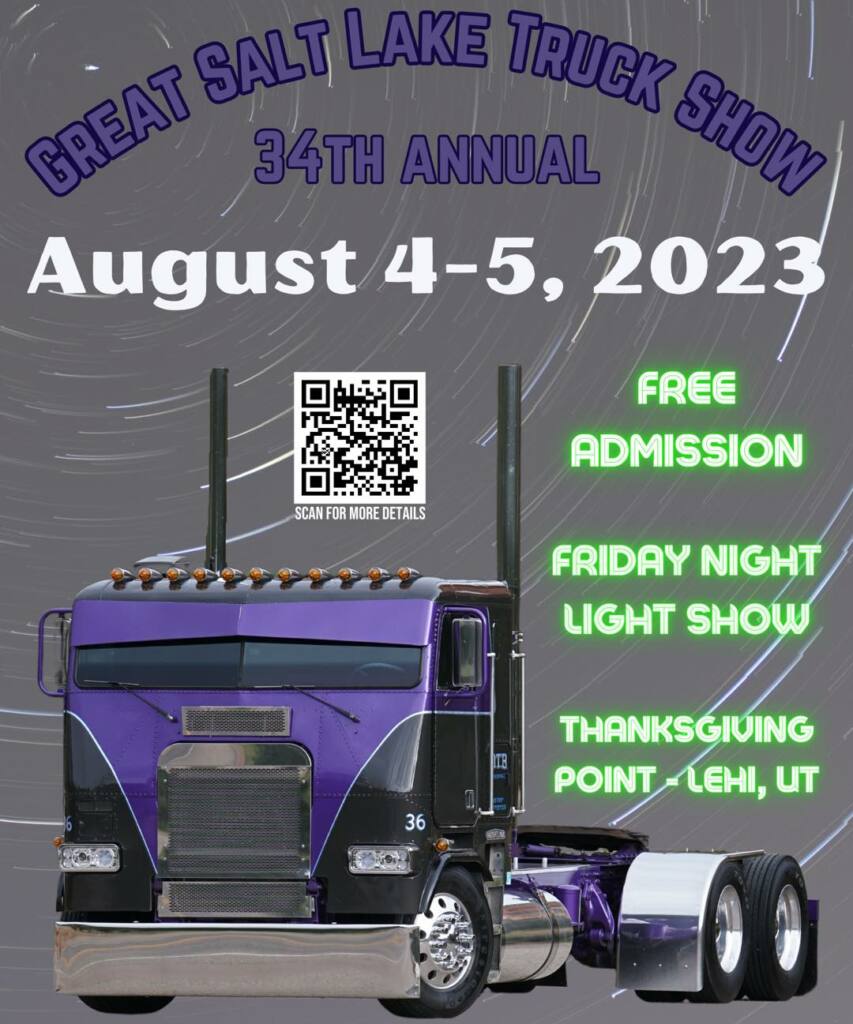 ---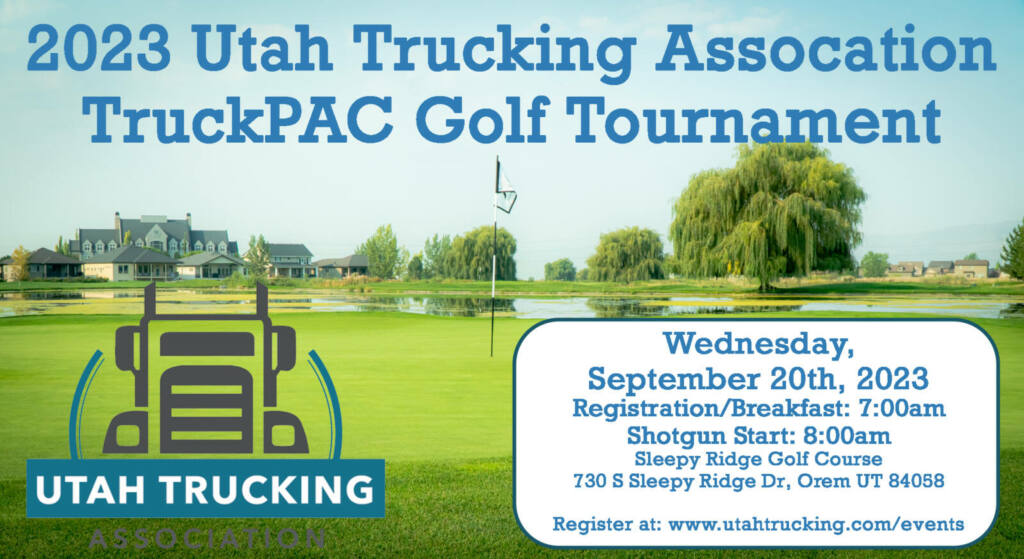 ---
Resources:
Nominations Are Open: Transport Topics Spends First Half of 2023 Looking for Heroes
The Transport Topics Trucking's Frontline Heroes Award is a one-of-a-kind opportunity to honor those remarkable individuals who brought their communities together and committed acts of great selflessness in moments of great need.
This year, Transport Topics is honoring those who endured unprecedented conditions to support communities, near and far, that were devastated by natural disasters. From catastrophic flooding to severe ice storms to unstoppable fires, natural disasters have greatly impacted communities across the country this year and created untenable situations for many.
Transport Topics recognizes truck drivers and trucking professionals who found the strength to reach out and support their neighbors near and far. You can find them tending to disaster-struck communities, buying food and necessities for impacted families, donating money and time to organizations providing aid, or behind the wheel of a commercial truck distributing essential goods.
This year, who most embodied a hero in your eyes?
The nomination period for Transport Topics' Trucking's Frontline Heroes closes August 9, 2023.
To ensure that your story is fairly reviewed by our judges, please include specific details about the work your hero has done this year, the specific natural disaster or community relief project and contact information so that we may reach you, or your hero, for further comment.
---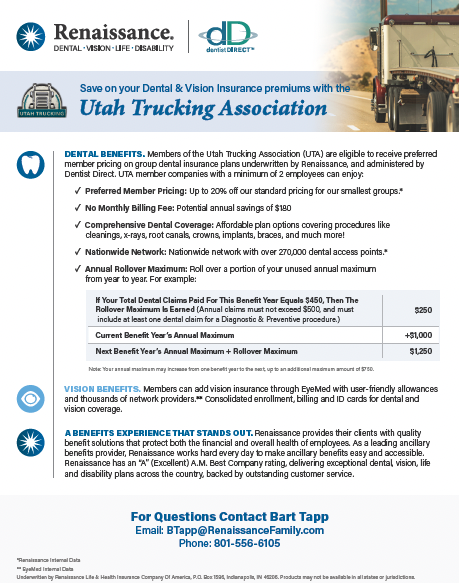 ---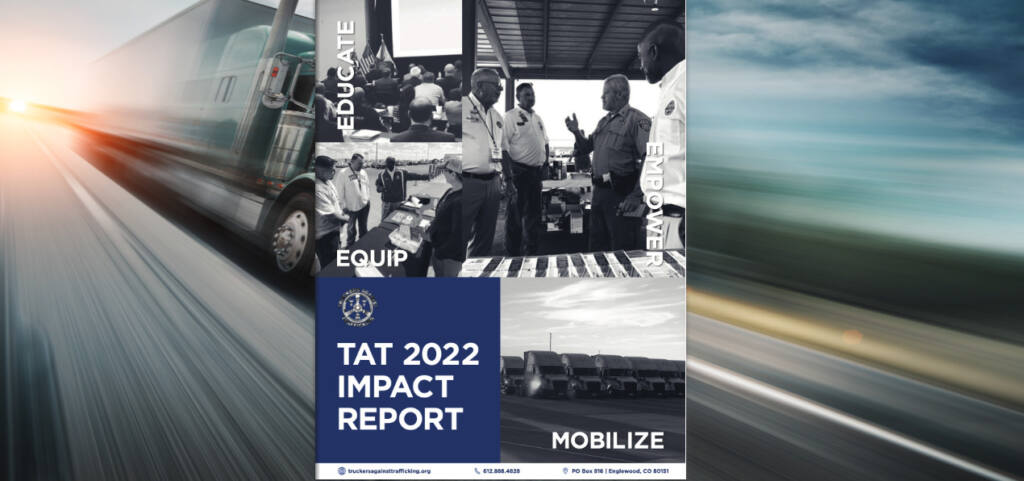 ---
Samba Safety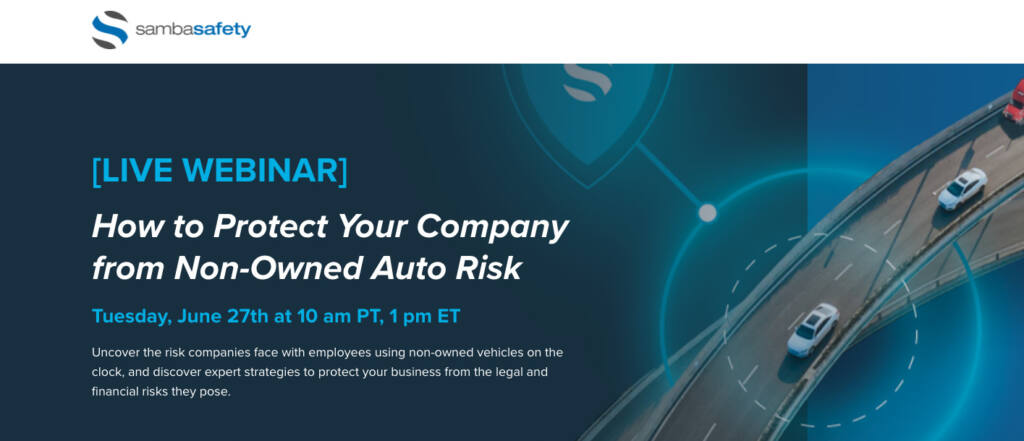 "How to Protect Your Company from Non-Owned Auto Risk" hosted by John Diana and Greg Stefan from Arch Insurance.SambaSafety is hosting the above webinar on June 27th @ 11am MT (1pm ET) Join us to uncover the risk companies face with employees using non-owned vehicles on the clock, and discover expert strategies to protect your business from the legal and financial risks they pose.
---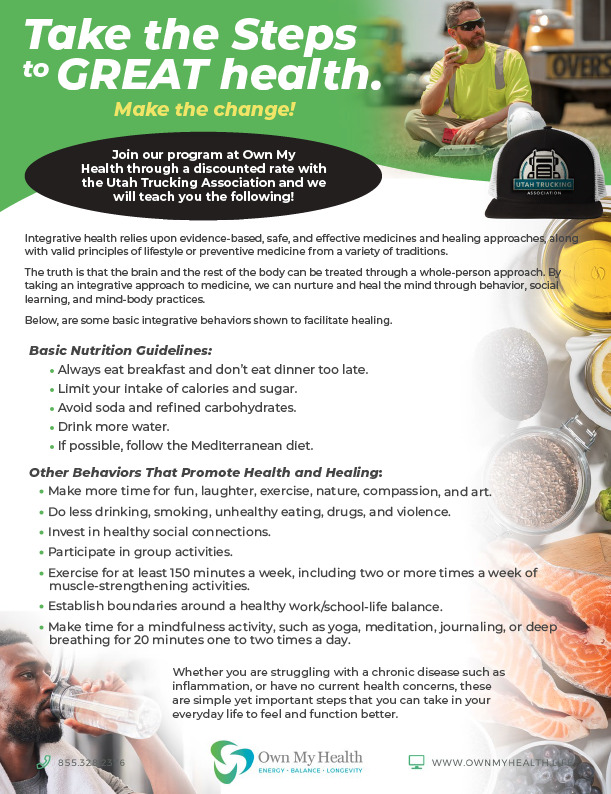 ---

---
News:
The Importance of Freight Broker Bonds for Your Trucking Business
The transportation industry is filled with risks for trucking companies. While a business can be lucrative, trucking companies face significant risks of accidents, goods lost or damaged during transit, failure to secure sufficient shipments to maintain profitability, and others. Because of these and other potential issues, trucking carriers typically look for ways to mitigate risks and continue to make a profit. One way trucking companies can do this is to partner with freight brokers to find shipments, keep their trucks full, and secure better rates than they might discover on their own.

Freight brokers play a vital role in the transportation industry. They connect shippers with carriers, negotiate rates, make sure that goods are handed off smoothly, and help to ensure that shipments safely arrive at their destinations on time. With a freight broker's help, you might avoid deadhead miles and keep your trucks running and full to minimize losses. As a condition for licensing, a freight broker must post a BMC-84 bond or open a BMC-85 trust. While these bonds are not required of trucking carriers, they are still important for your business. Here is some information about freight broker bonds and how they can benefit your trucking company.

BMC-84 Bonds vs. BMC-85 Trusts

To legally work as a freight broker, an individual must first post a BMC-84 bond or open a BMC-85 trust under regulations enforced by the Federal Motor Carrier Safety Administration (FMCSA). A freight broker must either post a $75,000 BMC-84 bond or deposit $75,000 cash in a BMC-85 trust.

A broker does not have to pay the full $75,000 to purchase a broker bond. Instead, they can pay a percentage of that amount that is determined by their credit, business reputation, experience, and other factors. This amount can range from 1% to 10% or more. Those with the best credit receive the lowest rates.

Since freight brokers are required to pay only a percentage of the $75,000 up-front to post a freight broker bond, most choose this option. This way, they can use the rest of their money for other operational needs instead of having it tied up in a trust account.

How Do Freight Broker Bonds Work?

Freight broker bonds are legal contracts between the following parties:

• Principal – The individual who needs to post a bond as a condition of obtaining a freight broker license
• Obligee – The FMCSA, which mandates the bond as a licensing condition for freight brokers
• Surety – The surety company that approves the bond for the freight broker and ensures they will comply with all regulations and laws

Unlike insurance policies, freight broker bonds do not shield the holders from liability. Instead, they protect others against potential malfeasance by the broker in their business dealings.

If a freight broker violates your contract, fails to pay you what you are owed for transporting goods, or violates the regulations and laws that affect your business, you can file a claim against the freight broker's bond. The surety will investigate your claim to determine its validity. If it validates your claim, it will pay you up to the bond's penal sum of $75,000. However, the freight broker won't be off the hook. They will have to reimburse the surety in full for all amounts paid on the freight broker's behalf.

Why Are Freight Broker Bonds Important for Trucking Companies?

Freight broker bonds are important for several reasons. First, brokers must undergo underwriting when they apply for bonds. The surety will investigate an applicant's credit, reputation, level of experience, and other factors during the underwriting process to evaluate the risk posed by the prospective broker. If the prospective freight broker has bad credit, a poor reputation, a criminal history, or other red flags, their bond application might be denied. For this reason, the fact that your freight broker has a bond indicates they have already been investigated and deemed to be trustworthy and worth the risk to the surety company.

Second, freight broker bonds are not permanent; they must be renewed annually. This helps the FMCSA to weed out bad actors when it's time for them to renew their bonds and licenses. If a broker has racked up multiple bond claims and has violated the law, the surety company will likely deny their renewal application. The FMCSA requires renewals to help protect trucking companies and the public against bad actors who could cause harm.

Finally, a freight broker's bond also offers some protection to your company. If the broker breaks the law or fails to pay you what they owe you, you can file a bond claim to recover the money you are owed. This provides more security for carriers as they build their businesses and form relationships with freight brokers and shippers.

How to File a Bond Claim

If your freight broker has failed to pay you on time under the terms of your contract, you should file a bond claim. First, review your contract to verify the deadline for payment. Most contracts call for payments within 30, 60, or 90 days.

You'll next need to make sure the unpaid-for load is covered by the surety bond. The FMCSA's regulations exempt certain commodities from bond coverage. You can review the list of exempted commodities here.

Once you've verified that the freight broker violated the payment terms for a non-exempt load, you can look up the broker on Safer.gov to determine its surety company. Searching by the broker's DOT number will take you directly to a page with the company's information. You can then search through the licensing and insurance link to find the name of the surety company you need to contact to begin the claims process. It's also a good idea to vet potential brokers by looking them up on Safer.gov to see if they have a pending cancellation of their bond.

A freight broker bond can help to protect your business as a trucking carrier. If your freight broker fails to pay your company or otherwise violates the law, you can file a claim against the broker bond. This provides you with an added layer of financial security for your business.
---
Yellow Exec Tells Sales Staff Company Will File Bankruptcy Monday 
Yellow's senior vice president of sales informed her staff on Wednesday that their last day would be Friday and the less-than-truckload carrier will file bankruptcy on Monday, according to three employees who attended the video call. The sales employees were approved to tell customers of the bankruptcy plans and to take paid time off for the rest of the week.
---
UPS, Teamsters Reach Agreement on New Contract 
The deal, which must now be ratified by the rank-and-file membership, staved off the possibility of a nationwide strike by the union workers. A work stoppage by the UPS workers threatened to wreak havoc on the economy.
---
Nation's Largest Truck Charging Station Opens at Port of Long Beach 
WattEV has opened the largest charging station of its kind in the United States for electric heavy-duty trucks at the Port of Long Beach. "We are here to celebrate the accomplishment of WattEV'senergization of 13 chargers—the largest public heavy-duty charging depot in the nation," says Commissioner Patty Monahan of the California Energy Commission.
---
Truckers Targeted in Scam That 'Hijacks' DOT Numbers 
A new scam targeting truckers could wind up costing you thousands of dollars – or potentially even put you out of business. Scammers are exploiting a recent "temporary adjustment" made by the Federal Motor Carrier Safety Administration for carriers updating their MCS-150 via the manual form.
---
Trucking Groups Call for Support of FET Repeal Bill—Again
Emphasizing the immediate benefits of the latest emissions and commercial vehicle safety technologies, American Trucking Associations and other eight trucking organizations and affiliates renewed the effort to repeal the "outdated and counterproductive" federal excise tax, or FET, on heavy-duty trucks and trailers. 
---
Truckers Largely Oppose Side Underride Guard Proposed Rule 
American Trucking Associations is among several industry stakeholders objecting to a NHTSA proposal that would require side underride guards on heavy trucks
---
FMCSA Revokes Three ELDs 
Federal Motor Carrier Safety Administration (FMCSA) on Tuesday removed All Truckers ELD, PrimELD and Secure ELD devices from its list of registered Electronic Logging Devices (ELD) and placed these ELDs on the Revoked Devices list due effective July 25 to the companies' failure to meet the minimum requirements established in 49 CFR part 395, subpart B, appendix A.
---
Thank You To Our Advertising Sponsors!